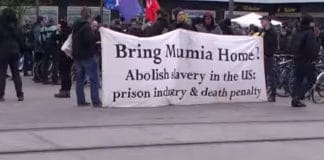 At this 30th anniversary of the MOVE massacre in Philadelphia, we here in Germany feel very close to you even despite the physical divide of more than 4,000 miles. The daily incidents of brutal police violence against African Americans but also poor white folk in recent months have shocked millions of people in Europe and Germany out of ideas that were perhaps somewhat naïve before into reality.
Why should we care what happened on May 13th, 1985? Because what happened then is a harbinger of what's happening now – all across America. I don't mean bombing people – not yet, that is. I mean the visceral hatred and violent contempt once held for MOVE is now visited upon average people – not just radicals and revolutionaries, like MOVE. A free screening of "Let the Fire Burn," the documentary on the police bombing of MOVE in Philadelphia, takes place on the 30th anniversary of the bombing, Wednesday, May 13, 7-10 p.m., at Omni Oakland Commons.
On Aug. 8, 1978, the Move Organization's headquarters was attacked in a pre-dawn raid by several hundred Philadelphia cops and officials. Move members were charged for the assault and are still languishing in prison. The issue is not what the parole board will "decide"; the real issue is what the people will allow.