by Minister of Information JR Valrey, SF Bay View Oakland Bureau
Losing a child is the scariest nightmare any parent can have, and when I heard that my close childhood friends Abdul-Haqq and Gaimah Khalifah had lost one of their teenage daughters to a freak illness, it disturbed me to my core. As a man with children, the passing of one of them would be like a part of my heart dying.
So to see a family that is dear to me begin to heal from such a devastating loss is inspiring and a lesson to the Black community in how to constructively deal with grief at an extreme level. I want to salute the Khalifah family in being shining examples to the community at possibly one of their lowest points.
If people are moved into action by this story, the Khalifahs are fundraising to fight Congenital Central Hypoventilation Syndrome (CCHS); check out the info at the end of this article. Now listen to 15-year-old Najiyya's father, Abdul-Haqq Khalifah, as he talks about his family's ongoing journey with grief caused by the sudden passing of his teenage daughter.
JR Valrey: Can you tell us a little bit about who your daughter was? What did she like to do?
Abdul-Haqq Khalifa: Najiyya was the third oldest of five, the oldest girl at 15. She was what I would call a cool square and social butterfly. She liked to be involved in things and had a good social-academic balance. To those she knew and loved, she was soft like a twinkie.
She had another side, though; being the oldest girl, when necessary, she had bite and bark. Her voice was steadily increasing in confidence and speaking out, both at home and school. As a sophomore in high school, she was trying to create and grow into her own identity.
She was someone who her youngest sisters looked up to greatly and were proud to say, "This is my big sister!" She hung tight with her brothers, as they were all three years apart.
Najiyya was very much a teenage girl – social, liked being online, volunteering. She was my crime drama movie buddy.
JR Valrey: How did she pass away? When?
Abdul-Haqq Khalifa: Najiyya passed away in the early morning of Sunday, Jan. 19, of 2020. That Friday, I remember dropping her off to school as normal and happy as could be. Saturday, she seemed fine until the evening when she needed a breathing treatment and vomited, but nothing that warranted great concern. Maybe she ate something that didn't agree with her stomach, etc.
Sunday morning, I was at the masjid in North Oakland for the morning prayer, and I received a call from our other daughter saying Najiyya wasn't breathing. So I immediately left the masjid. The drive home was the longest and most surreal experience. My wife is the one who tried to wake her initially and noticed something was wrong. She tried CPR until the emergency services arrived.
When I arrived home, the firefighters and paramedics were already in her room trying to revive her but after more than 20 minutes, which seemed like forever, they were unable to.
The same day Najiyya passed, our two other daughters, who shared a room with her, had to be hospitalized, for what ended up being two weeks. Their condition was diagnosed as a respiratory virus. We had to wear masks and gloves to enter their rooms, which has since become the norm.
We had no idea what her cause of death was. However, we are now pretty certain that it more than likely was a mix of her preexisting condition of Congenital Central Hypoventilation Syndrome (CCHS), which in a sentence means the inability to control breathing to varying degrees and what hadn't been defined yet as a pandemic, COVID-19.
JR Valrey: As a father, how did you deal with the grief and still live a productive life daily, especially right after it happened?
Abdul-Haqq Khalifa: I've learned, and I still am learning, that the true meaning of patience is defined by how we deal with things immediately after they happen. Differentiating between a reaction and response is critical. The former is like having no cartilage between two bones, while the latter is allowing things to come and go, pacing your emotions.
I read a book that says life is 10 percent what happens and 90 percent how you choose to respond. The key is to empower yourself through choice. I did not give her life, and I have no say so in when it is returned. So, too, with my own self.
Balance, acceptance and allowing myself to grieve are how I deal with it. I trust in the Creator being the All Knowing and, for whatever reason, this was what was supposed to happen. I have no idea how her life would have turned out if she were still alive. What I do know is that she was and still is a gift in the form of a loan from the Creator.
As a father, I think about how I did and did not prepare her for this transition and for our children who are still living. Who am I? What am I here for? How do I see myself? God consciousness and character in thought, word and deed are the best gifts I can give my children outside of modeling these characteristics myself.
There will always be a void in my – our – hearts because of Najiyya's death, but we try to use it for good, and it's helped me shift to a greater degree towards being intentional about making positive, happy, joyful memories with loved ones as true keepsakes. Material gifts are good and a necessary part of life, but they tend not to be as meaningful nor last as long.
Because our other two daughters were hospitalized, it required us to be fully present with them, in terms of their physical, but also their spiritual and mental. For one of our sons, he and Najiyya were in the same grade, and due to graduate high school together this year. Our other son had moved out, so his struggle had to do with not being at home, and thinking they had much time left to vibe as siblings. He moved back in not too long after her death. So the impact hit everyone differently.
Also, maybe about a year or two before Najiyya died, in my attempt to connect with her on a deeper level, I started writing her in a journal. My thinking – my hope – being that one day it would have significance and meaning to her when she got older or after my death.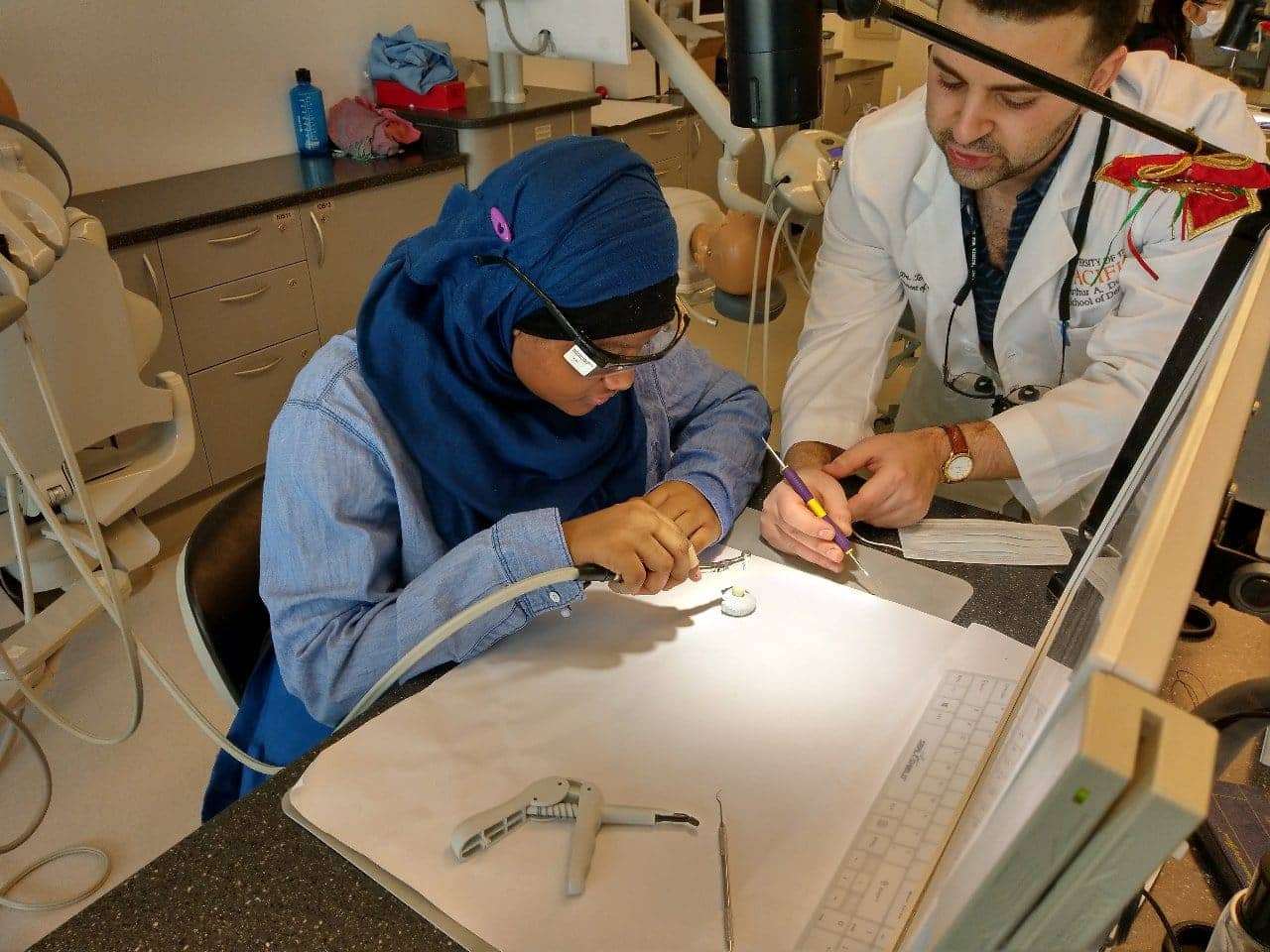 Being a teenager, she never wrote to me back, but I know she read it on the low! I never realized that it would be something I would cherish, the one-to-one connection with her. I haven't gotten to the point where I'm ready to read it myself, but one day.
Death is a reminder and an opportunity to self-correct. It's inevitable and something that we tend not to prepare for. Life is like a book, each year a chapter, every day a page. We are the author, but we don't know when it will end. So living with an urgent and purposeful intent, I believe, is critical.
The fact that she died in her sleep has intensified my reflection when I go to sleep and wake up, and there is a prayer we say for both. All praises to the Most High for giving me life after death, a reminder that sleep is the cousin of death and that your soul returning to your body is not to be taken for granted.
And when waking up, in the Creator's name, I live and die. Meaning if I start everything I say and do in the name of our Lord, I'm good and that however I die, it be in a way that is honoring my Creator through how I lived.
. . . acknowledging, accepting and understanding that we grieve differently.
Lastly, I think about all the families who have lost children tragically and/or unjustly and pause in awe of them to continue. It makes me humanize, identify with and empathize even more when I see or hear about the loss of life in a way I didn't before. With hardship comes ease.
JR Valrey: Did the grief put stress on the relationship between you and your daughter's mother? How did you deal with that?
Abdul-Haqq Khalifa: Yes, the grief added stress between our relationship. The fact that we were caught off guard by it, and that there is no textbook way to deal with it, there were some things we had to figure out along the journey. Also, we were entering a pandemic that altered the home/work balance and landscape, while still having to make sure our other youngins were healthy and functional.
My wife had more layers of grief and trauma. I can't imagine what carrying life for nine months is like and the otherworldly bond it creates, as well as the fact that my wife was the one who found her, tried to resuscitate her etc. Her experience and memory are way more acute than mine, in this regard.
So this was the first way I dealt with it; acknowledging, accepting and understanding that we grieve differently. So allowing my wife and our children that right and space to do it, in a way that is most comfortable and meaningful to them, and asking my wife what she needs from me in a particular moment, I had to learn. Sometimes it's just listening, no more, no less. The only principle I held us all to adhering to was don't harm yourself or others as a result of your grief.
Talking with each other and our children about Najiyya in the form of loving memories is healing and allows us all to process.
Silence is one of the biggest killers in our community on many fronts, and the diseases of all types that plague us usually lie in the secrets we keep.
Talking with each other and our children about Najiyya in the form of loving memories is healing and allows us all to process. Initially it was kind of taboo or caused anger or sadness, but it was important for us all to talk about Najiyya and the topic of death, so they don't grow up not having critical conversations or fearing death.
We sought grief counseling for the whole family and gave our children the option to continue or not continue after the first session, in order to try and demystify the negative connotations that we have sometimes related to counseling and how seeking it is seen as deficit.
We still deal with it, so it is not past tense, and it will always be present to a degree and triggered by memories, dates, songs, food etc. It's a part of life. But it is an ongoing process and there will always be a void. In a way we have closure, and in another way we exist and live knowing that there will never be complete closure in this life.
Our youngest daughter closely resembles her in the face and mannerisms. So she is a beautiful reminder of her sister. If you see her, you see Najiyya!
JR Valrey: Can you speak about your family's fundraiser, what will you do with the funds?
Abdul-Haqq Khalifa: Although CCHS is known to only affect a little over a thousand people worldwide, four out of five of our children have been diagnosed with it to varying degrees. Our youngest needs to be trached at night with a ventilator to supplement her breathing, while the other two need less invasive breathing assistance. We want to actively help find a cure and support other families as it is near and dear to our hearts, and this is one of the ways we have chosen to do this.
What we are doing with this fundraiser challenge that is a little bit different is that we are going to secure monthly recurring donations that amount to $500 versus one time donations. We believe that small contributions done over an extended period of time will have a greater impact over the long run.
The challenge is on-going: https://cchsnetwork.org/get-involved/donate/. In memory of Najiyya, a monthly recurring donation of any amount is not too small and greatly appreciated.
We don't receive any of the funds. All donations go to the CCHS Network/Foundation and they allocate 75 percent for CCHS research, 20 percent for educational outreach and 5 percent to help CCHS families attend the annual CCHS educational conference. Seventy-five percent of the money raised will be used to support CCHS research.
Just as important to us, get in where you fit in. What you are doing with this interview in educating folks and getting the word out is priceless. The same goes with sincere prayer and positive energy. We believe in the effort to be holistic, and no offering is turned down.
JR Valrey: Why is it important for the community to support one another?
Abdul-Haqq Khalifa: I don't know where we would be without the continued and long standing support of the communities we are part of. When you are part of a community, you always get tenfold or more of what you give. We are witnesses to this truth, many times over.
I'm reminded of many proverbs – "Many hands make light work." "We are because I am; I am because we are." "Get in where you fit in." "Everyone can do something" – and more.
It's an opportunity to support something greater than oneself. Whatever gift or resources we have is a loan and should be used for good. Life is not only about what we get but also the beauty and blessings in the things we don't have. These things too are also a bounty.
JR Valrey: How do people get in touch and stay in touch with you?
Abdul-Haqq Khalifa: The best way to get in contact with me is 510-282-2587 or abdulhaqq.khalifah@gmail.com. For everybody donating, please put Najiyya's name within the subject line of the donation.
JR Valrey, journalist, author, filmmaker and founder of Black New World Media, heads the SF Bay View's Oakland Bureau. He can be reached at blockreportradio@gmail.com or on Facebook. Visit www.BlackNewWorldMedia.com to read more.