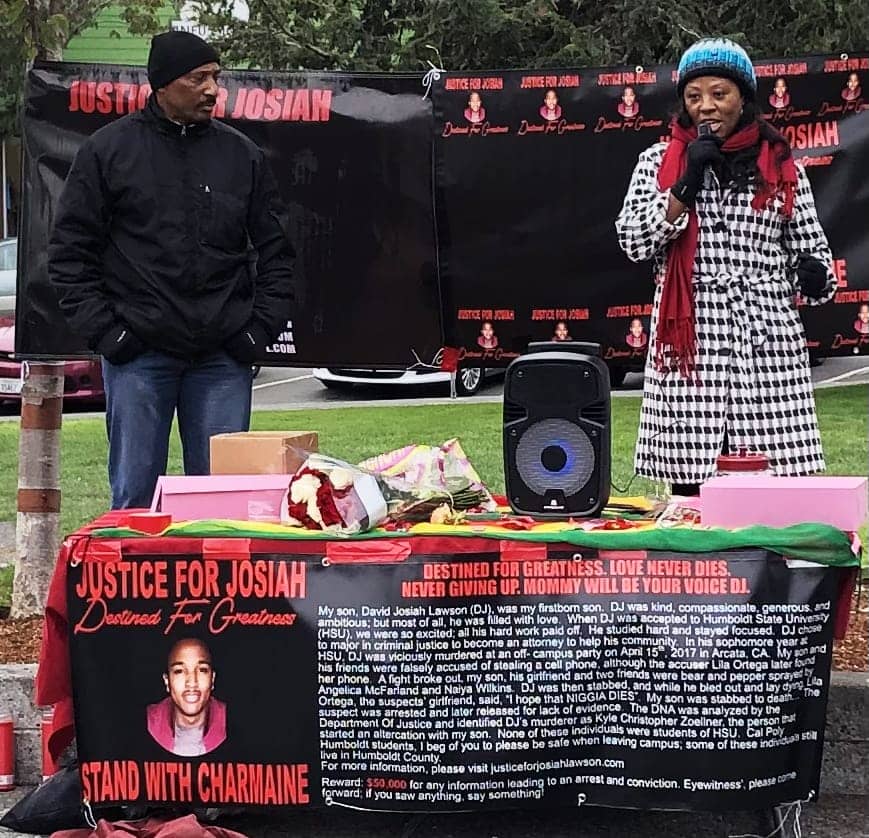 by Karpani Burns, SF Bay View
The still unresolved case of murdered 19-year-old Black student, David Josiah Lawson, is approaching the end of the fifth year of pain and suffering for Charmaine Lawson, mother of young, first-born Lawson – lovingly called "DJ" and "Josiah" by family, friends and supporters.
In the beginning
On April 15, 2017, in Arcata, Calif., David Josiah Lawson was murdered at an off-campus party. Lawson was a sophomore and student leader attending Humboldt State University (HSU) (renamed Cal Poly Humboldt in 2022). The Lawson murder revealed: a hate crime, inadequate and incompetent investigation of the Arcata Police Department (APD), incompetency, indifference and indications of racism by Humboldt County DA Maggie Fleming's office, City of Arcata's deliberately indifferent policies and practices, racist attitudes in Humboldt County, HSU's lack of support and protection for students of color and more. The brutal killing began what is now a protracted fight to bring justice to a mother, family, friends and supporters, student body and community. Please see previous SFBV stories here and here. Find more information here.
2021 settlement between Lawson and City of Arcata
Resulting from a civil lawsuit brought by Charmaine Lawson against the City of Arcata alleging the City's violating her equal protection rights, with racism and bias, by inadequately and incompetently investigating the murder of her son, David Josiah Lawson, a settlement was reached. The City paid Ms. Lawson $200,000 and made a $25,000 donation to the David Josiah Lawson Memorial Scholarship fund along with an agreement to paint a memorial mural. The City did not admit to any wrongdoing in referencing the settlement's "compensatory damages" payout.
U.S. district judge throws out SF jury's order to award Kyle Zoellner Oct. 14, 2022
In 2017, after being released by a criminal grand jury hearing for lack of evidence, Kyle Zoellner filed suit against City of Arcata and former APD detective Eric Losey, alleging Losey maliciously filed a false police report.
Five years later, the March hearing of Zoellner's bifurcated claim prompted U.S. District Judge Edward Chen to dismiss the bulk of the Zoellner suit against the City of Arcata and all of its employees, excepting former APD detective Eric Losey.
After prolonged legal skirmishing, the trial commenced on Oct. 3, 2022, and a San Francisco jury awarded Kyle Zoellner $776,300. The award was quickly overturned by U.S. District Judge Jaqueline Scott Corley, because "the Court concludes that Mr. Zoellner has not proved the lack of probable cause element of his malicious prosecution claim" and therefore, "the claim fails and judgment must be entered in Mr. [Eric] Losey's favor."
The Lost Coast Outpost wrote: "Patrick Moriarty, an attorney representing Losey and the City of Arcata argued that APD detectives had no unlawful purpose in arresting Zoellner 'and the decision to charge him with the murder of [Lawson] was based on evidence.' Moriarty maintains that there was ample probable cause to charge Zoellner."
There is one remaining allegation that was bifurcated from the case – that the City attorney threatened Zoellner with prosecution if he moved forward with the civil suit. Consequently, the Court has scheduled a case management conference to be held on Nov. 17, 2022, to "address whether separate judgment should be issued on the malicious prosecution claim … as well as propose next steps with respect to the bifurcated claim."
"My son DJ was an amazing human being, my child, my friend and big brother to his younger brother and sister. DJ was studying criminology, intending to continue towards a law degree and work to bring justice to the realm of so much injustice. He had a bright future cut short by his brutal, hateful murder. The very system DJ was committing to working with failed him. After five and a half years, Humboldt County DA Fleming, even with a preponderance of Arcata Police Department evidence, has refused to take Kyle Zoellner off the streets of Humboldt County," stated Charmaine Lawson.
Now
On Oct. 19, 2022, Governor Newsom Announces Rewards for Unsolved Murders in Alameda County, Bakersfield, Fresno and Santa Paula here.
This new information about an additional resource creates a next step for Charmaine to take moving forward in her quest for justice in the murder of her beloved Josiah.
In the day-to-day, Ms. Lawson continues to make the trip north to Arcata from Southern California nearly every month, with intermittent COVID-19 interruptions, to share her love merging with uplift and love from community members and supporters in remembrance and honor to the loss of her son, whom she frequently exalts as being "destined for greatness." Lawson's energy towards achieving justice is always enhanced by solidarity and ongoing support to bring Kyle Zoellner to account for his act of hate, taking the life of DJ from his family and community.
The Dec. 10, 2022, the fifth Annual David Josiah Lawson Coat Drive organizing is underway to support students and community members in need. The event is always enjoyed in the warmth of love providing new and gently used coats, hats, socks, gloves and scarves to meet the winter chill, and backpacks, sleeping bags, blankets, towels, hygiene products and snacks and food not requiring can-openers, cooking or refrigeration to meet personal needs – and of course the warmth of holiday cheer in this annual gathering in solidarity with Charmaine and her family, in the true spirit of the joy of giving.
To support the fifth Annual David Josiah Lawson Coat Drive, please donate to their GoFundMe.
Call to Action
In a world presenting a daily classroom to teach the lessons we already know but have forgotten, the gift is here and now to take care of each other, to feel each other's pain, be each other's salve and to be the fire that melts barriers to justice and healing.
Enough is enough! Justice for Josiah! For five years, Zoellner and his accomplices have walked free. Zoellner must be held accountable. This case must be prosecuted. Write or call your officials. Let them know we DEMAND justice.
Note: Readers in solidarity outside of California, please feel free to copy the letter(s) and customize location and/or identity.
Read the two versions of the letter here: the student version and community member version.
Send letters and make calls to:
Humboldt District Attorney
districtattorney@co.humboldt.ca.us
707-445-7411
California Department of Justice
pui@doj.ca.gov
916-210-6276
Congressman Jared Huffman
317 Third Street, Suite 1
Eureka CA 95501
Phone: 707-407-3585
Governor Gavin Newsom
1021 O Street, Suite 9000
Sacramento, CA 95814
Phone: 916-445-2841
Additional media coverage from Humboldt County, Calif. may be found here:
North Coast Journal: "Humboldt Court Overturns Zoellner Jury Award"
El Leñador News: "Judge Throws Out Zoellner Lawsuit"
Lost Coast Outpost: Zoellner v. City of Arcata
North Coast Journal: "Zoellner Civil Case Lurches Toward Trial"
Karpani Burns works with the Justice for Josiah committee in Northern California, is on staff with the San Francisco Bay View newspaper and advocates for the unheard voices and political prisoners behind the walls of the prison industrial complex. karpani@sfbayview.com