Tags
Execution by medical neglect
Tag: execution by medical neglect
Imam Jamil, 73, has suffered imprisonment for over 16 years – 12 years in solitary confinement, for no reason. Seven of those years were in the "supermax" federal prison in Florence, Colorado. While in that Administrative Maximum Facility, he had no human contact, no fresh air, nor sunlight. Now that Imam Jamil has been diagnosed with an incurable cancer and the prison has proven unable to provide medical care, please release him to Humanitarian Parole.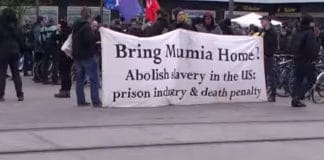 At this 30th anniversary of the MOVE massacre in Philadelphia, we here in Germany feel very close to you even despite the physical divide of more than 4,000 miles. The daily incidents of brutal police violence against African Americans but also poor white folk in recent months have shocked millions of people in Europe and Germany out of ideas that were perhaps somewhat naïve before into reality.
Political prisoner and revolutionary journalist Mumia Abu-Jamal has been the victim of criminal neglect by the Pennsylvania Department of Corrections for months, and his life is in grave danger. He is weak, in the infirmary, and continues to need a wheelchair to come out to visits. Mumia needs all of us to help now! Sign the petition to help save – and free – Mumia. Also, we need to keep up the pressure with phone calls. No execution by medical neglect! Save Mumia's life!