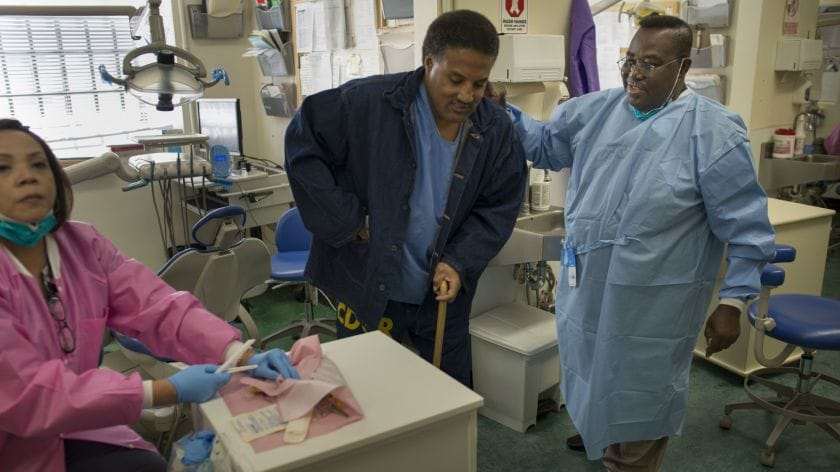 by Sal Rosselli
There is a dangerous double standard in California when it comes to protecting people from COVID-19.
The state is mandating regular COVID-19 testing for nursing home residents and caregivers, but incarcerated individuals in state prisons and county jails often can't get tested, even though they live in facilities that have had some of the worst coronavirus outbreaks.
The National Union of Healthcare Workers (NUHW) is committed to protecting all of California's caregivers and their patients. That's why we're pushing state leaders and the California Department of Public Health to extend the COVID-19 testing guidelines already in place for nursing homes to correctional facilities.
Our proposal would require: mandatory COVID-19 testing for all individuals upon entry into a correctional facility, monthly testing of healthcare workers when there are no COVID-19 infections at a correctional facility, weekly testing of all workers and incarcerated individuals when there is at least one infection in a facility and mandatory testing for workers without adequate PPE who have been exposed to COVID-19.
Correctional facilities face unique challenges that make them especially prone to COVID-19 outbreaks. A report released in August by the state's Office of Inspector General found that vague testing guidelines, faulty thermometers and inadequate staff training likely contributed to the COVID-19 outbreak in California prisons that, as of last month, had killed at least 54 prisoners and infected more than 9,500 others.
NUHW-represented nurses, mental health professionals and other caregivers inside county jails see firsthand the risk COVID-19 presents to incarcerated individuals, such as sheriff's deputies refusing to wear masks or enforce social distancing rules, inadequate testing for incarcerated individuals that only ramps up after an outbreak has occurred, and unsafe living conditions where COVID-positive prisoners are housed in the same dormitory as non-COVID prisoners.
It should come as no surprise that the death rate nationwide from COVID-19 is higher inside prison walls and more than twice as high in California prisons, according to a recent study by the nonprofit National Commission on COVID-19 and Criminal Justice.
NUHW members have been caring for incarcerated individuals infected with COVID-19 inside county jails and at nearby hospitals where prisoners have been sent to receive life-saving treatment. Meanwhile, far too many NUHW members have contracted COVID-19 because the healthcare corporations they work for have refused to regularly test them or provide them with adequate protective equipment, such as N95 masks.
There is no ethical excuse for law enforcement and billion-dollar companies like Wellpath not to protect the health of prisoners and the people who care for them with regular COVID-19 testing.
Healthcare workers don't discriminate when it comes to providing care. In 2016, NUHW-represented caregivers at Santa Rita Jail worked with the families of prisoners and community allies to prevent Corizon Health, the nation's largest for-profit correctional healthcare provider, from renewing its long-term contract to provide healthcare at the jail.
The Alameda County Board of Supervisors agreed not to renew the contract after workers highlighted numerous complaints of medical neglect, denial of necessary services and dangerous working conditions.
Unfortunately, the company that ended up with the contract to provide medical care at Santa Rita, Wellpath, has failed to protect the health of workers and patients during the pandemic. More than 200 incarcerated individuals at Santa Rita have contracted COVID-19. Meanwhile, caregivers have had to fight for protective masks and still can't get tested, even if they've been exposed to the virus.
NBA players are tested every day for COVID-19 and are playing on a closed campus. There is no ethical excuse for law enforcement and billion-dollar companies like Wellpath not to protect the health of prisoners and the people who care for them with regular COVID-19 testing.
It comes down to fairness and doing what's right. We need a healthcare system that treats all workers and patients equally, and we need the state of California to make sure that all healthcare workers and patients – especially those inside correctional facilities – can be immediately tested for COVID-19.
Sal Rosselli is president of the National Union of Healthcare Workers, which represents 15,000 workers across California, including at jails in Alameda, Sonoma and Stanislaus counties. He can be reached at srosselli@nuhw.org.