by Sumiko Saulson
It has been a long pandemic – remember back in March 2020 when we thought that we would only be on lockdown for two or three months? A year and seven months later, outdoor in-person events were still barely making a comeback. Those that occurred were small.
Large events like San Francisco Pride – which usually takes place in June in order to commemorate the anniversary of the Stonewall Riots June 28, 1969 – were canceled for the second year in a row in 2021 or were altered so drastically as to not be the same event. This June's Pride was deferred and, instead, celebrants were offered an outdoor movie night at the stadium in the name of public safety.
Now that things are opening up again, we're seeing fall celebrations honoring occasions that could not be celebrated this summer. For instance, San Francisco Pride will be hosting the LGBTQ+ Freedom Day Festival on Sunday, Oct. 10, 2021, from 11 a.m. to 6 p.m.
The new fair, in its inaugural year, is timed to take place near National Coming Out Day – Monday, Oct. 11 – in order to encourage increased visibility for the LGBTQ+ community. It takes place on Valencia Street in San Francisco's Mission District between 18th and 21st streets. It is not a festival but a street fair, which will host more than 100 vendors and community organizations.
Islais Place is now leasing brand new units!
100 apartments at 4840 Mission Street available for lease through DAHLIA San Francisco Housing Portal!
Households must have a minimum monthly income of two times the rent. Households must earn no more than the gross monthly income listed below:
Applications and more info available on DAHLIA San Francisco Housing Portal: housing.sfgov.org
The applications deadline is September 28th, 2023 at 5PM.
Applications must be submitted online at
housing.sfgov.org
from September 7 to September 28, 2023. For assistance, contact one of the housing counseling agencies listed at
housing.sfgov.org/housing-counselors
.
This property has some units with special features for mobility impaired or sensory impaired households. Several preferences apply; learn more at
housing.sfgov.org
.
Income and other restrictions apply. Section 8 welcome. Equal Housing Opportunity.
The new event is a part of an initiative called SF Pride 365, which began last year as a result of the pandemic. A decision was made to move away from the one mega-event and create a series of smaller online and, eventually, in-person events that highlight the diversity of the LGBTQ+ community.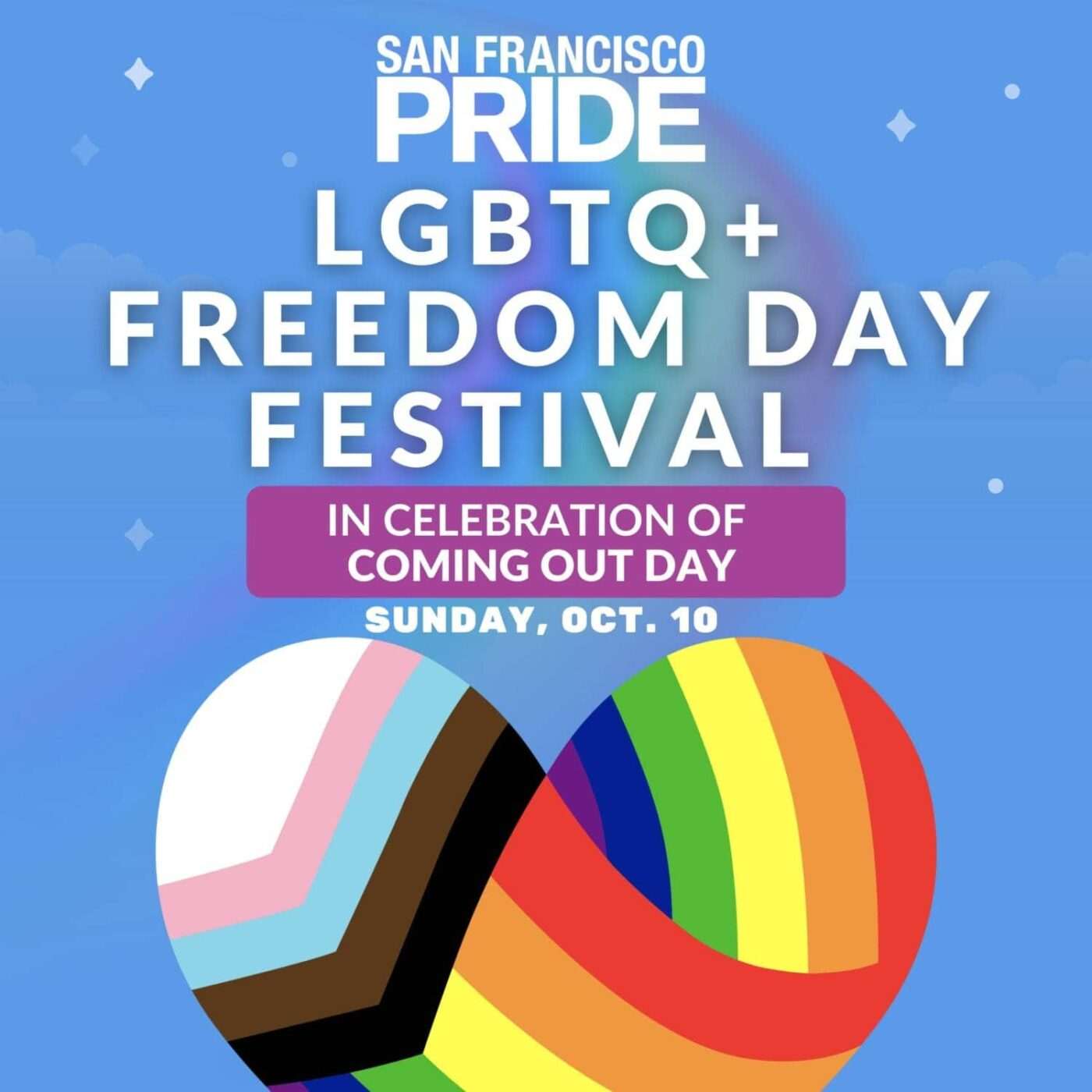 By celebrating LGBTQ communities within the many ethnically diverse neighborhoods within the city, Pride can achieve two goals. It can create smaller gatherings where it is easier to maintain social distancing and mask mandates while working to resolve diversity issues that have long plagued San Francisco Pride. This includes both broadening racial and ethnic inclusivity and moving away from centering cisgender gay men to show more appreciation for transgender people, lesbians and the rest of the LGBTQ+ community.
Oakland's Trans March and Oakland Pride both took place in September to commemorate and honor the Black and Brown transwomen who were at the forefront of LGBTQ rights at the Compton's Cafeteria Riots, which took place in the Tenderloin in the month of August 1966 – three years before Stonewall.
The purpose is "to celebrate the cultures and diversity of the Lesbian, Gay, Bisexual, Transgender and Queer (LGBTQ) community in Oakland and the East Bay."
Diversity is a cornerstone of Oakland's LGBTQ Pride, whose mission statement states that its purpose is "to celebrate the cultures and diversity of the Lesbian, Gay, Bisexual, Transgender and Queer (LGBTQ) community in Oakland and the East Bay." Because it is in Oakland, with its general goals, it has traditionally been a far more diverse event than San Francisco Pride.
The Oakland Pride Parade and Festival were back in person this year, with celebrants marching from Broadway and 14th Street at 10:30 a.m. and finishing at Broadway and 20th Street. The Oakland Trans March took place on Saturday, Sept. 4, 2021, leaving Oscar Grant Plaza at 2 p.m.
The Oakland LGBT Community Center put on its fourth annual Pride in the Park on Saturday, Sept. 11, 2021, the day before Oakland Pride, between 12:00 and 7:00 p.m. The LGBTQ Wellness Fair featured health and food vendors, house music deejays, health screenings – including HIV testing and COVID-19 vaccinations – games, competitions and live music.
Oakland is home to an organization that specifically offers assistance to Black LGBTQ+ individuals, Oakland Black Pride– unrelated to Oakland Pride. They held a series of smaller online and in person Black-centered LGBTQ+ Pride events between June 24 and 27 known as "Inside/OUT." Hope to see more from them in 2022.
San Francisco's premiere leather community event, the Folsom Street Fair, returned back in-person this year, in its smaller, original form. The usual Folsom Street Fair is huge, enticing about 250,000 leather-clad participants every year.
In 2020, it was entirely online. This year, a less crowded version of the event with the same footprint called "Megahood" included smaller, more local stages and a vendor focus. People were asked to refrain from showing up from out of town. Local Bay Area vendors were encouraged and out of towners asked to stay away.
The pandemic means keeping the events California centered and as Bay Area-based as possible.
The regular event attracts international members of the kink community, but the pandemic means keeping it California centered, and as Bay Area-based as possible. The 2021 Megahood was marketed to people from the greater Bay Area and Sacramento, who can drive in for the day.
The leather-clad revelers, some of whom were already wearing leather masks, were subject to the event's mandatory mask mandate per city ordinances. There were no large acts, only local acts on the five community stages. Onsite vaccinations and COVID tests were given and free masks handed out.
"We're taking you back to basics. Bringing you into the future. Giving you a vision of where we were and where we're going on this journey of sexual liberation for ALL. The first Folsom Street Fair in 1984 was called MEGAHOOD. A stand against gentrification. An insistence on a place for us all. An event that was all about COMMUNITY. We can't wait to see you in the street, in your mask, from just far enough away to be absolutely tantalizing. Our stages will be amazing, our exhibitors will be spicy, and our community will be together." – Folsom Street Events
In San Francisco, a BIPOC and Gender Inclusive Fetish Dance Club opened up. Club Mantis, a Femme and BIPOC-led group, opened a new 21+ fetish community social event at Cat Club SF at 1190 Folsom St., San Francisco 94103, on Wednesday nights, when the club historically held Bondage-A-Go-Go (affectionately known as BAGG).
The new club, Mantis, has a dance floor and DJ dance music in the front, and a small dungeon with different music in the back. The music in the front showcases cultural diversity in alternative and World Beat music. The dungeon in the back is run by an attentive and friendly femme. An online reservation system ensures that everyone has equal access to the equipment. Mandatory masking and mandatory proof of vaccination are both strictly enforced.
Bestselling author Sumiko Saulson writes award-winning multicultural sci-fi, fantasy, horror and Afrosurrealism. Winner of the 2017 Afrosurrealist Writer's Award, 2016 HWA Scholarship from Hell, and 2016 BCC Voice Reframing the Other Award, (he)r monthly series Writing While Black follows the struggles of Black writers in the literary arts and other segments of arts and entertainment. (S)he is gender non-binary. Support (he)r on Patreon and follow (he)r on Twitter and Facebook.