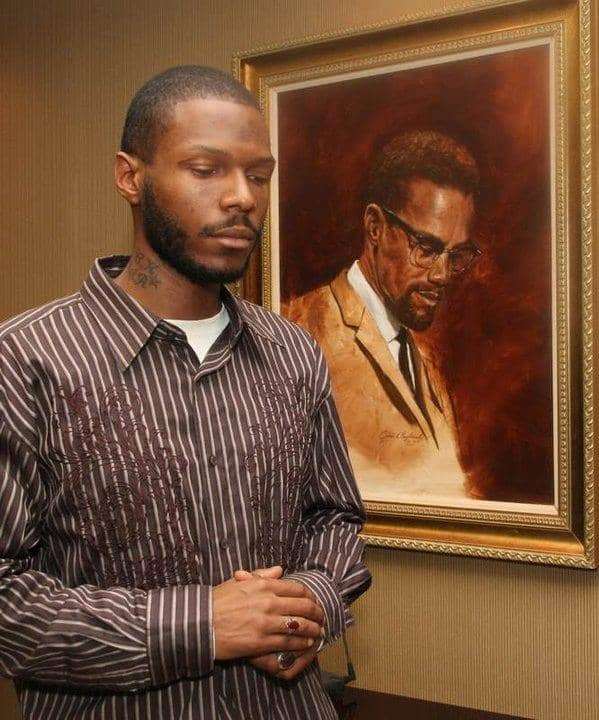 by Shaykh Hashim
"Houses of Struggle"
In the early 90s, a friend of mine and I decided to start a grassroots basketball team as a survival program to help young Black males navigate racism, oppression and inequalities. Having Black Panther members in my family, our mission was to continue the ideas of the BPP survival programs, which are sometimes overshadowed by the guns.
Many of these programs focused on the youth and preparing them for the future through education. See bppaln.org/programs (more Survival Programs).
We used basketball as a place of training, teaching self-control and discipline on the court, but off the court we had an education circle where we would gather the players even before games and have classes in African American studies, including politics and issues such as sex, drugs,violence and social justice.
These sessions were extremely productive as we became not educators but mentors to Black men in the Bay Area during a very tumultuous time during the early '90s. This program is called the Oakland Soldiers which to date has helped mentor and send 1,000s of young people to college.
We have also been honored to have been considered by one of the best players to play the game – Le Bron James wore a Soldier Uniform.
During one of these first educational circles, which is now called "Soldiers Circle," we watched the 1974 documentary on Malcolm X. After viewing the film, we went to our game, wearing Malcolm X shooting shirts which turned the eyes of many scouts and fans. Holding a Box radio playing Public Enemy and marching single file like soldiers down the hall of the gym,
I figured it would help create the environment we were looking for.
As the game started, we proceed to get blown out and lose by around 20 points to
some suburban team which had no business being in the gym with us. After the game we gathered, and I asked them why they played that way and all of them agreed that the video on Malcolm was on their mind and realized that the lessons, life and principles of Brother Malcolm were more important than basketball. We preferred to talk about Malcolm than play a game.
I was happy that Malcolm was able to do for them what he has done and continues to do for society, "Open our minds to Truth." After that I decided to never show Malcolm or any of our Black Soldiers before a game and have these Circles at different times.
As we approach the birthday of Brother Malcolm and Sister Yuri Kochiyama on May 19, the story above came to mind because it reminded me that after over 50 years since his martyrdom and assassination, our youth can still benefit from his life, lessons and principles.
Recently there was a film called "House of Gucci" and we have heard of the House of Rothschilds, House of Queen of England and other dynastic families. These Houses, which are also families and tribes, are a foundation and building block of society in the history of mankind.
Globally and historically, we can study and see the benefit of these Houses – the good or bad, oppressors or oppressed and cruel or benevolent. When I look at the House of Shabazz, of which Malcolm was the head, we see that he encouraged a House of Struggle for Justice and Freedom. This House was not only made up of his blood family but supporters of his movement and principles.
This House of Shabazz has not always been understood completely, because some people want only to take early Malcolm and not the complete Malcolm after his Hajj.
Hajj had a transformational effect on his soul and whole existence. His struggle now has not only accepted "Orthodox" Islam but he has become an international human rights activist.
I agree with ex co-founder of the Black Panther Party Bobby Seale, who said when Malcolm focused on Black community unity that was the Malcolm he loved. Malcolm overseas had taken our struggle to the international level and desired to work with all organizations to bring a stop to the oppression and brutality that was rampant on the African Americans.
Malcolm's ideas of taking the U.S. to the Untied Nations to charge genocide and get global support was genius then and still today. The House of Shabazz led by Malcolm was at the forefront of changing the direction of our movement in the '60s and '70s.
We were blessed that some of this House's ideas reemerged in the late '80s in hip hop
such as KRS One's "My Philosophy" album cover displaying him looking out of the window with an Uzi ,like Malcolm looking out of a window defending his House from enemies.
Yuri Kochiyama was a part of this House of Shabazz as a comrade and supporter of Malcolm. She was highly trusted by Malcolm and one of the only people along with Betty Shabazz that he allowed to cook for his House. Yuri will always be known for her courage and fearlessness jumping on stage running to Malcolm's bullet riddled body attempting to revive him after he was shot. 
Yuri even before meeting Malcolm was a powerful activist and had her own House of Kochiyama. She raised children who participated in Civil Rights and Black Nationalist movements for decades. Her House was the place of meeting for many revolutionaries and activists in Harlem and other such luminaries of the struggle and was also called "Grand Central Station."
Yuri corresponded with captives in the Black Power movement along with other Black
nationalist organizations and part of the provisional government of the Republic of
New Afrika, which advocated for the creation of an independent Black republic in the southeastern United States. The House of Kochiyama has been involved in the freedom and liberation of all people since the '40s.
These two individuals share the same birthday, which is coming upon us May 19. They are the leaders of Houses in which a light of liberation burns. Houses which are torchbearers of justice.
This month is also the day we remember the 10-year anniversary of the murder in Mexico City of Young Malcolm Latif Shabazz on May 9.
I had the pleasure of having young Malcolm live with me after his captivity in the gulags of New York. When he first contacted me, young Malcolm was studying Islam in Syria in the area of the tomb of Zainab bint Ali.
Zainab was from the House of Fatima (as), the daughter of the Prophet Muhammad (as) and wife of Imam Ali (as). This House is a revolutionary House that soon after the death of the Prophet (as) revolted against the tyrannical House of Bani Umayyad led by Yazid.
Yazid and his army martyred Zainab's brother, Imam Husayn (as), along with 72 others of the Household of the Prophet (as) at the Plain of Karbala in modern day Iraq. Zainab after this was imprisoned with the other woman after witnessing the decapitation and murder of her family members.
When Zainab returned to Medina, she continued to speak out about these injustices and started to gather support before being exiled to Syria where she died. Young Malcolm studied this movement at her tomb and connected his House of Shabazz with this House of Fatima.
He saw the intersection of speaking truth to falsehood and sacrificing one's life in this cause like his grandfather and other revolutionaries.
Young Malcolm, like his grandfather and the House of Fatima, wanted to help in the liberation of oppressed people and strive to continue to spread the light of justice. He desired to continue the movement of the House of Shabazz. He decided to go to Oakland, and along with the help of Brother JR, did multiple speaking engagements in his grandfather's footsteps.
Young Malcolm was able to travel with JR Valrey to Libya and meet Ghaddafi and the children of other African revolutionaries. He made the Hajj like his grandfather, traveled America, and spoke with Panther Cubs about creating social change in the world. 
One of his most memorable meetings was with Sister Yuri Kochiyama while she was living in Berkeley. He told me how she just touched his face and said he reminded her of his grandfather. They both shared amazing smiles. Young Malcolm's life was unfortunately taken from us on May 3, 2013, in Mexico City as he was on his way to build with Afro Mexicans in VeraCruz.
I had been given the responsibility to carry out the Islamic funeral rites over his body. As Muslim, the body must be washed and put in the white robe called a Kafan. We washed the body at Fouchés which has also been the funeral parlor for many Black activists such as Lil Bobby Hutton.
After washing the body and putting it into the Kafan his mother, Qubilah, asked to see her son for the last time. As she walked into the room, the brothers and I stepped aside and started to cry profusely as we watched this woman with no tears rub his arms and feet. She said they killed my grandfather, my father and my son.
I recalled Zainab looking at the murdered bodies at Karbala and the strength which she must have had to continue to be strong under such conditions. These are Houses of Struggle for Justice, and on May 3 and May 19 we should reflect on our own houses, families and tribes to see if we are engaged in having a House of Liberation.
There will also be a program celebrating the lives of Malcolm X and Yuri Kochiyama at Lighthouse Mosque, 620 42nd St., Oakland, Calif., on May 19, 2023, at 6 p.m.