Tags
Racist police brutality
Tag: racist police brutality
Racial violence against Black America is a regular part of America's history; hiding and denying this racial violence is also a part of America's history. For decades, African Americans have complained about police brutality. White America dismissed them or paid little attention and this denial allowed White America to feel innocent.
Among the crowd of 150 activists were four young people holding a sign that simply read, "Last 3 Percent." The words refer not directly to police violence but to the broader problem of the mass exodus of African Americans from San Francisco. Thousands have left their city of birth not because of any personal preference but because of political decisions and economic policies, many set into motion several decades ago.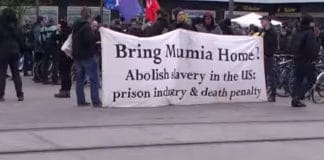 At this 30th anniversary of the MOVE massacre in Philadelphia, we here in Germany feel very close to you even despite the physical divide of more than 4,000 miles. The daily incidents of brutal police violence against African Americans but also poor white folk in recent months have shocked millions of people in Europe and Germany out of ideas that were perhaps somewhat naïve before into reality.
With a banner reading "From the Mission District to the whole Bay Area – Stop Racist Police Brutality," over 300 community members rallied against the most recent case of police violence in San Francisco. The event was prompted by a video that became widespread showing 18-year-old City College student Kevin Clark being brutalized by two San Francisco police officers.