The housing crisis, a shelter in place order and the National Guard: It's not just coronavirus and disaster capitalism that we need to resist in these unsure times but the increased criminalization of people simply trying to survive.
by Rebecca Ruiz for Anti Police-Terror Project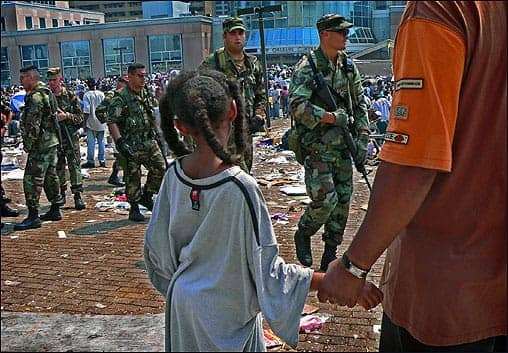 As flood waters rose in New Orleans, Louisiana, on Aug. 29, 2005, the historically Black city was left with little aid and even less compassion from the federal government. Residents scrambled to climb rooftops, prisoners were abandoned in their cells, and life-saving medical equipment was destroyed.
In the days that followed, some stranded residents poured into abandoned corner stores and supermarkets grabbing food, diapers and anything they could eventually sell to get them out of the devastation they faced, having lost everything. However, politicians and mainstream media focused squarely on what they portrayed as "gangs" of Black youth looting and pushing the city into what primetime pundits argued was "violent chaos."
Reports of rapes, and shooting at relief helicopters were later proved to be false but only after they were used to justify placing the city under informal military control.
In the weeks and months after Hurricane Katrina, residents dealt with food insecurity, black mold spores clouding the air, squatting gutted homes, unsanitary shelters where parasitic bacteria infections like giardia spread. Despite these struggles, an overarching fear remained that the police, private security agencies run by ex-Blackwater operatives, and the National Guard meant to surveil and control poor and Black residents in the name of "safety."
Islais Place is now leasing brand new units!
100 apartments at 4840 Mission Street available for lease through DAHLIA San Francisco Housing Portal!
Households must have a minimum monthly income of two times the rent. Households must earn no more than the gross monthly income listed below:
Applications and more info available on DAHLIA San Francisco Housing Portal: housing.sfgov.org
The applications deadline is September 28th, 2023 at 5PM.
Applications must be submitted online at
housing.sfgov.org
from September 7 to September 28, 2023. For assistance, contact one of the housing counseling agencies listed at
housing.sfgov.org/housing-counselors
.
This property has some units with special features for mobility impaired or sensory impaired households. Several preferences apply; learn more at
housing.sfgov.org
.
Income and other restrictions apply. Section 8 welcome. Equal Housing Opportunity.
Grassroots activists doing critical aid work were intimidated, trailed and infiltrated by the government, while simply providing food and sanitation supplies to residents in desperate need.
Fifteen years later, we should use the lessons we learned during Katrina and resist anything resembling military control under the guise of "relief." While Gov. Newsom dispatches the National Guard, which he claims would have the sole purpose of providing crucial supplies and food during the pandemic, we need to hold Newsom to a promise of aid and not AR-15 wielding military police even if residents are forced to loot for survival.
Newsom has been clear that martial law, the complete formal military control of California by the federal government, isn't off the table.
A panic-stricken nation is still coming to grips with what health officials warn could be the loss of some 100,000 to 240,000 lives. We will surely face an unprecedented next few months. We need aid, we need resources, we need adequate and funded healthcare, not more policing.
The Bay Area is entering its third week of the Shelter in Place Order and many wonder how it will be enforced and by whom. We have never before seen a shelter in place order tied to such clear legal implications if violated.
Bay Area residents risk a misdemeanor for breaking it, punishable by fines that at this time many people will have trouble paying, or incarceration – imagine that – punishing lack of social distancing by placing an individual in a packed jail. Moreover, if we know anything about policing here in the Bay Area, it's that laws are selectively enforced and with racial bias.
With Business Insider reporting that Facebook and Google are in talks with the government to use apps to determine where people are congregating in groups and NSA whistleblower Edward Snowden warning that an opportunistic government might use this time to further loosen privacy laws in the name of public health, the concerns of selective enforcement enhanced by digital surveillance become very tangible. As Bay Area journalist Davey D pointed out in the context of last Sunday's sideshow in the Fruitvale in Oakland, people are much more likely to call out Black and Brown youth congregating in East Oakland than they are to police those congregating routinely at farmers' markets.
Miami's NAACP chapter has already launched a campaign to oust the chief of police after shocking videos surfaced of Black residents brutalized for engaging in group outings, including a video of a young Black woman being shoved to the ground and choked by an officer. Miami Mayor Dan Gelber contends that they aren't targeting individuals because of their racial background but for being in crowds to abate the spread of coronavirus. However, the throngs of white spring breakers don't immediately seem to be reporting strict enforcement.
But what happens when people of color do comply with healthcare recommendations to slow the spread of the pandemic? In Illinois, a viral video shows a Black man being followed by police in a Walmart and ordered to take off his surgical mask. Police wrongly claimed store policy is to leave the face uncovered. The man pleads with other shoppers – the police are treating him as if he is about to rob the joint but he is simply trying to protect himself and others from a deadly virus.
Just as richer, whiter residents and racist vigilantes felt protected by the National Guard after Katrina, there are drastically different views on the Guard coming to Oakland. Will the Guard simply pass out food and sanitation supplies and, if they do, will they be armed with automatic weapons? Will East Oakland and Chinatown get treated differently than Montclair and Pacific Heights?
Will the Guard protect vacant homes owned by property speculators much like Ahern's militarized sheriff department did when homeless mothers with Moms4Housing liberated the home on Magnolia?
Anything that resembles criminalization will not protect the vulnerable. Often they are the ones targeted and yet the most at risk. The Bay Area has high concentrations of immunocompromised populations – those with autoimmune diseases like HIV, respiratory illnesses because of environmental racism in places like Richmond, Hunters Point and West Oakland, among other serious health conditions.
This fact added to California's skyrocketing homeless population – the National Alliance to End Homelessness reports that homeless people are sometimes three to six times more likely to suffer from serious health conditions than the general population – is a recipe for disaster and it's something we can't take lightly.
People of color, immigrant, queer, disabled, poor, homeless and other heavily policed communities can resist criminalization by demanding a sole focus be placed on critical aid in the form of financial, housing and social support as well as popular education on how to best slow the spread of the virus. We need to do this immediately. In fact, our lives depend on it.
Articles referenced:
Rebecca Ruiz of the Anti Police-Terror Project can be reached at Rebeccaruiz510@gmail.com.