Free Zulu! The US prison system, designed to capture, confine and control, denies it holds Political Prisoners like Kenny Zulu Whitmore, Imam Jamil Al-Amin, Dr. Mutulu Shakur, Leonard Peltier, Russell 'Maroon' Shoatz, Ed Poindexter, Romaine 'Chip' Fitzgerald and so many more, most falsely accused and wrongfully convicted. Released after 50 years, Jalil Muntaqim was rearrested, charged with trying to vote as the State attempts to reclaim his captivity.
May our Divine Mother-Father Creator of and in All – and beloved Ancients and Ancestors from past millennia, yesteryears and, literally, yesterday – find you and (y)our extended Family healthy and staying spirited during this dangerous worldwide pandemic, global imperialist monopoly capitalist economic devastation, and ongoing European and american "white" state and vigilante terrorism. WE offer our sacred-most thoughts for the healing of our dear editor, Elder Mary Ratcliff. Get well, Mama Mary! Asé.
The wheels of justice often move very slowly in our country, but we are picking up speed. Chuck Africa is now free! He was the youngest of the MOVE 9 to be arrested after the horrific events of Aug. 8, 1978. The groundswell of grassroots activity in Philly has brought MOVE members home starting with the release of Debbie Africa in June 2018 to Chuck Africa, the morning of Friday, Feb. 7, 2020. Two of the nine members, Merle and Phil Africa, passed away in prison, but the remaining seven are now free.
Political prisoner Mike Africa Sr. was finally released on Oct. 23, after more than 40 years in prison. He is one of the MOVE 9 who were unjustly convicted and sentenced to 30 to 100 years in prison following the 1978 police attack on the MOVE organization in Philadelphia. With son Mike Africa Jr., he made his way straight home to Mike Jr.'s house after leaving SCI Phoenix. Waiting for them was MOVE 9 member Debbie Africa, Mike Sr.'s spouse, who had been released this June 19.
In the early morning of June 16, after nearly 40 years of unjust imprisonment by the state of Pennsylvania, political prisoner and MOVE 9 member Debbie Sims Africa was granted parole and released from the State Correctional Institution-Cambridge Springs. Messaging on Instagram, the MOVE Organization wrote: "Our sister Debbie Africa is FREE! What a beautiful day to find freedom! Let's keep fighting for our bros and sisters still behind bars — Mike [Sr.], Eddie, Chuck, Janet, Janine and Delbert! The struggle is underway!" This important victory comes exactly two years after Debbie, Janet and Janine Africa were last denied parole in 2016.
ONA MOVE! This is an urgent message about our brother, Delbert Africa. Delbert is experiencing disturbing symptoms that are eerily similar to what our brother, Phil Africa, experienced before passing away in prison. Delbert tells us that he's having vision problems, he's seeing spots and he's also urinating nearly every hour. This system is hell bent on killing off MOVE people and we know it. May 13, 1985, proves that.
The frame-up of rapper Meek Mill by Philadelphia cops bears a telling resemblance to the case of Mumia Abu-Jamal. Both stand as indictments of the entire injustice system. Recent revelations about the fraudulent arrest and imprisonment of Mill demonstrate what police and prison abolitionists have known for decades: The entire institution of mass incarceration is a crooked, racist system. When we say, "Free Meek and free Mumia!" we also say, "Free them all!"
For over three decades, thousands of organizations and hundreds of thousands of individuals around the globe have mobilized to save Mumia Abu-Jamal from execution, to overturn his conviction, to demand his freedom. Without these international mobilizations, crucially including the organized labor movement, we would not have saved Mumia from two warrants of execution and compelled the state to concede defeat in trying to execute him.
UN-Habitat, the UN's human settlements program, states that the number of people living in slum conditions is now estimated at 863 million, which was only a couple hundred million less in the 1990s. The Shack Dwellers Movement or Abahlali baseMjondolo (AbM) is a political group dedicated to the betterment of the urban poor's living. They strive to organize "a society where everyone counts and where capital and the state are subordinate to society."
In the spirit of the MOVE conference held May 5-7 in Philadelphia to educate the public about the MOVE organization, I will like to expound on the U.S. government sanctioned attacks on MOVE within the larger context of the FBI's campaign of harassment, murder, frame-ups and imprisonment of Black revolutionaries during the radical '60s and '70s, and even today, in an effort to thwart the realization and actualization of Black unity, Black power and Black liberation.
Now, as the San Francisco Bay View newspaper's 40th birthday year comes to a close, is the time to bring up to date the historical sketch of our paper that I began with Part 1 in the January paper. Piles of old papers rest on my desk, waiting to be read once again – a banquet of stories and pictures of our lives, our hopes, our goals. Let me let you taste the flavor of the freedom we continue to fight for in the age of Trump.
On 1 Mosiah (August), thousands of Pan Afrikanists from around England, Europe, the Afrikan continent, the Caribbean, Australia and other former colonies like West Papua – accompanied by billions of our Afrikan forbearers! – assembled in London for major mass actions. In this, the Annual Afrikan Emancipation Day Reparations March, the themes of "Stop the Maangamizi: We charge genocide and ecocide" and "Demand reparatory justice and reparations" united all.
Internationally renowned political prisoner Mumia Abu-Jamal has just published a brilliant 15-page pamphlet about the challenge of the period we're living in in this country. "To Protect and Serve Who?" is truly a handbook discussing the roots and history of the police in this country, a class and historical analysis of who the police are, and finally a strategy for transforming the role and definition of the police and their power relationships with the people.
Mumia Abu-Jamal's eighth book written from prison cells in the state of Pennsylvania, USA, is a selection of 107 essays that date from January 1982 to October 2014. They cover practically the entire period of his incarceration as an internationally recognized political prisoner. Most of the pieces were written while he was on death row after being framed for the murder of police officer Daniel Faulkner on Dec. 9, 1981, in the city of Philadelphia.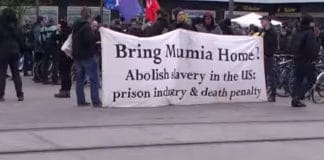 At this 30th anniversary of the MOVE massacre in Philadelphia, we here in Germany feel very close to you even despite the physical divide of more than 4,000 miles. The daily incidents of brutal police violence against African Americans but also poor white folk in recent months have shocked millions of people in Europe and Germany out of ideas that were perhaps somewhat naïve before into reality.
Why should we care what happened on May 13th, 1985? Because what happened then is a harbinger of what's happening now – all across America. I don't mean bombing people – not yet, that is. I mean the visceral hatred and violent contempt once held for MOVE is now visited upon average people – not just radicals and revolutionaries, like MOVE. A free screening of "Let the Fire Burn," the documentary on the police bombing of MOVE in Philadelphia, takes place on the 30th anniversary of the bombing, Wednesday, May 13, 7-10 p.m., at Omni Oakland Commons.
On Saturday, Jan. 10, 2015, Phil Africa, revolutionary, John Africa's first minister of defense and beloved brother, husband and father, passed away under suspicious circumstances at the State Correctional Institution at Dallas, Penn. Phil will never be forgotten and this is not the end. He is dearly missed, but his strong example should inspire everyone to fight harder for the freedom of the MOVE 9 and all political prisoners.
Under pressure from the Fraternal Order of Police and Fox News, Oakland Unified School District (OUSD) just shut down the entire Urban Dreams website including material on Martin Luther King and Mumia Abu-Jamal authored by Oakland teacher Craig Gordon. OUSD is censoring and attacking the academic freedom of students in the Oakland schools and of teachers. This shameful action must be reversed immediately!
It happened a long time ago. Aug. 8, 1978, to be exact. Over 35 years ago. After months of trial, nine MOVE men and women (five men and four women), were convicted of third degree murder and sentenced to 30 to 100 years imprisonment. They were attacked for political reasons, prosecuted for political reasons, and sentenced the way they were for political reasons.
The Scottsboro Boys have been vindicated, but there are many more waiting in the wings – waiting for justice. It is often said that justice delayed is justice denied. Many years have passed in so many unresolved civil rights crimes and injustices. And if no one is prepared to step up and pursue these cases, we must wonder if justice will ever come.