I frequently hear correctional officers make statements such as, "Inmate, get off my table," "Inmate, get off my yard," "Inmate, get off my bed" and so on. The idea that they own everything in the prison sounds like they have serious ownership issues, along with superiority complex and delusions. It could also be the reason they abuse prisoners so much. If correctional officers believe we are their property, they could justify abusive treatment of "their" property.
Last week I was alerted to an inflammatory story from Bay Area ABC news reporter Dan Noyes that basically sought to disparage the Black August commemorations. The story noted that "police sources" had leaked an FBI bulletin to him stating that prison guards and police were going to be attacked by members of the Black Guerilla Family in commemoration of Black August. Many found the allegations to be outlandish. Black August is a month that is held to high esteem by many in the Black community who celebrate the resistance movements that have long been a part of our history for the past 300 years.
In hopes of getting people to understand the mind and psyche of a sexually abused minor, I took a moment to speak with child psychologist Phyllis Haugabook. Phyllis is a therapist who has worked with sexually, mentally and physically abused children for over 17 years. Listen to what she has to say about the effect sexual abuse has on the psyche of the child and why so many sexually abused children often protect their abusers.
"On the weekend before Super Bowl 50 in downtown San Francisco, Officer Joshua Cabillo aggressively put his hands on me. It was a peaceful protest and I sensed the hatred in his eyes," says protester Deja Caldwell. Not only did Officer Cabillo unnecessarily assault a woman who was protesting police killing, but he is a killer cop himself! On June 5, 2012, as a South San Francisco police officer, Joshua Cabillo brutalized, restrained and eventually shot to death 15-year-old Derrick Gaines. Officer Cabillo is a child killer with a long record of abuse, yet SFPD hired him.
The pain and suffering of the nine months since unarmed Michael Brown was shot and killed by a Ferguson, Missouri, police officer has given birth to a new era of intolerance for police brutality. On the heels of Mother's Day, more than a thousand community members turned out for a luncheon to honor those whose children lost their lives to violence and to join forces with the Black Women's Forum (BWF), of which Congresswoman Maxine Waters is co-founder.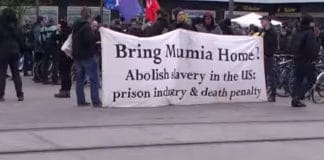 At this 30th anniversary of the MOVE massacre in Philadelphia, we here in Germany feel very close to you even despite the physical divide of more than 4,000 miles. The daily incidents of brutal police violence against African Americans but also poor white folk in recent months have shocked millions of people in Europe and Germany out of ideas that were perhaps somewhat naïve before into reality.
The message for the protectors of the white corporate and financial elite is that it does not matter if you execute a kid in cold blood in front of a dozen witnesses or you are caught on video murdering Eric Garner or 12 year-old Tamir Rice; you don't have to fear prosecution from the state. It is now open season when it comes to policing and controlling the dangerous class of poor and working class Black people.
They elect the first African American president of the United States, and we still die. They say that we now live in a post-racial America, yet we still die. President Obama says to the youth to be patient, because change takes time, and while we have patience, we still die. President Obama says that times have changed, and that things aren't as bad as they used to be. Times may have changed, but we are still dying!
It's kind of fitting that police officers Darren Wilson and Daniel Pantaleo, murderers of Mike Brown in Missouri and Eric Garner in New York, were cleared of criminal wrongdoing in the last several weeks. The eruption of protest, activism and organizing in response to the (bad) decisions of legal bodies to not hold these officers accountable for their crimes has occurred at a time of special significance for the legacy of the Black Panther Party.
For the past four years, community activists and civil rights leaders in the Houston area have been fighting hard to establish a civilian review board with prosecutorial power over local police. The board would oversee the activities of a Houston Police Department (HPD) which has had a "love affair" with the use of excessive and lethal force on Houstonians. The problem with HPD is much larger than it appears and affects everyone in Houston.
Because of Andy Lopez' killing, the main focus of many people I know is on youth executions at the hands of law enforcement. I see this in terms of a broader context, i.e. the long-range agendas of the right-wing Republican Party. The week-to-week shooting deaths of our Black, Brown and other youth by so-called law enforcement must be studied in the context of the systemic all-over picture. Clearly, there is a pattern and a plan there, if one would just look closely.
When you think of an officer of the law, you tend to think of a public servant to protect and serve, not a murderer, child molester or pedophile. We know that all officers aren't bad, but we also know that all officers aren't good. According to ABC News on Aug. 29, 2013, Officer Richard Hastings of the San Francisco Police Department, who is 37 years old, was arrested in Concord, California, for alleged child molestation.
On Oct. 12, Oakland Police Chief Howard Jordan announced that 44 of his officers would face some manner of punishment for their abuse of Occupy protesters last year. Some have hailed this decision as a sign that the Oakland Police Department is finally going to start holding its officers accountable. A look at the recent decisions by Jordan and the OPD, however, dispels any such hope.
Derrick Gaines, 15, was shot and killed by Officer Joshua Cabillo of the South San Francisco Police Department on June 5. His family continues to courageously demand that the truth be heard. Join Derrick's family and friends Thursday, Sept. 20, at the Arco station where he was murdered, at 2300 Westborough Blvd, South San Francisco, for a speakout at 4 p.m. and a march at 5 p.m.