Tags
Free Mumia Abu-Jamal Coalition
Tag: Free Mumia Abu-Jamal Coalition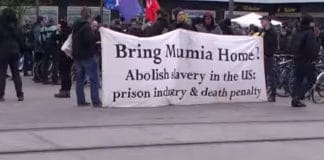 At this 30th anniversary of the MOVE massacre in Philadelphia, we here in Germany feel very close to you even despite the physical divide of more than 4,000 miles. The daily incidents of brutal police violence against African Americans but also poor white folk in recent months have shocked millions of people in Europe and Germany out of ideas that were perhaps somewhat naïve before into reality.
Now is the time for everyone to actively jump into the movement full force. We must mobilize the way we did in 1995 and 1999 to stop the execution. We must use all of our energy to immediately demand proper medical care for Mumia and push for his full release. Keep calling the heads of Corrections and of Mahanoy Prison. Contribute to Mumia's Emergency Medical Fund. All who can are urged to join the caravan Monday, April 6, to Corrections Secretary Wetzel's office. And all who cannot be there are urged to CALL 717-728-4109, especially before 8 a.m. Monday. See Sunday night update.
The Free Mumia Abu-Jamal Coalition announced her passing on the afternoon of Dec. 17: "It is with deep sadness that we share the news about the transition of Goldii. From a daughter's perspective, she was a dynamic spokesperson, speaking stirringly of the impact incarceration has on children and families. She was also a staunch advocate on behalf of her father's innocence."
On Saturday, Jan. 10, 2015, Phil Africa, revolutionary, John Africa's first minister of defense and beloved brother, husband and father, passed away under suspicious circumstances at the State Correctional Institution at Dallas, Penn. Phil will never be forgotten and this is not the end. He is dearly missed, but his strong example should inspire everyone to fight harder for the freedom of the MOVE 9 and all political prisoners.
Attorney Karima Al-Amin, wife of Imam Jamil Al-Amin, formerly known worldwide as H. Rap Brown, the voice of Black power, announced yesterday what has now been confirmed: "Imam Jamil has been moved to Butner FMC (Federal Medical Center), North Carolina." Word on his condition or whether he has received medical care has not yet come. Still, this great man remains behind enemy lines, and the same mass pressure by the people that resulted in his transfer must be applied and intensified until he is free.
Political Prisoner Imam Jamil Al Amin, formerly known as H. Rap Brown, is in critical medical condition and in desperate need of our urgent action. Imam Jamil was a dominant and influential figure in the Civil Rights and Black Power Movements of the 1960s. He served as chairman of the Student Nonviolent Coordinating Committee (SNCC) and later as Minister of Justice for the Black Panther Party.
The U.S. Supreme Court has rejected the Philadelphia district attorney's attempt to reinstate the death penalty on Brother Mumia! In order to reinstate the death penalty at this point, the DA would have to call for a new trial on the question of the sentence, with a new jury having to decide on whether to reinstate the death sentence. Otherwise, the sentence of life in prison – without parole – remains. Now on to freeing Mumia!
On Dec. 9, 2010, thousands of prisoners in at least six Georgia state prisons initiated the largest prisoner strike in U.S. history, uniting across racial boundaries to demand an immediate end to the cruel and dehumanizing conditions that damage prisoners, their families and the communities they return to. Readers are invited to add their names to this solidarity statement.
Mumia's legal situation is extremely dangerous. His life truly is on the line. Rallies are being held on Tuesday, November 9th, in Oakland and Philadelphia.
The Fox News cable channel crew has discovered a new all-purpose Black boogey-man to rile latent racial animosity in America: Mumia Abu-Jamal, the internationally acclaimed death row journalist. Abu-Jamal is now a regular reference in the weapons of mass deception arsenal employed by Fox and its friends to demonize their enemies de jour.