To those of us who were alive and sentient, the name Huey P. Newton evokes an era of mass resistance, of Black popular protest and of the rise of revolutionary organizations across the land. To those of subsequent eras – youth in their 20s – the name is largely unknown, as is the name of its greatest creation: the Black Panther Party. It is up to the oppressed of every generation to plumb the depths of history and to excavate the ore of understanding, to teach us not what happened yesterday, but to teach us why today is like it is, so that we may learn ideas to change it.
It is amazing how time flies whether one is moving or standing still. One looks up and sees, suddenly it seems, friends celebrating 70 and 75 or 80 or even 90-plus milestones. Wow! What a blessing that is. And while we also see the fullness of time's passage in the lives of those who have decided to move on, too often we are caught by surprise, our mouths hung open, the words we could have said … deeds left undone.
Mumia Abu-Jamal's eighth book written from prison cells in the state of Pennsylvania, USA, is a selection of 107 essays that date from January 1982 to October 2014. They cover practically the entire period of his incarceration as an internationally recognized political prisoner. Most of the pieces were written while he was on death row after being framed for the murder of police officer Daniel Faulkner on Dec. 9, 1981, in the city of Philadelphia.
"The Black Panthers: Vanguard of the Revolution" by Stanley Nelson is a documentary about a Black revolutionary organization in a revolutionary time. It is one of the best documentaries that I have ever seen that intends to tell the history of an organization that shook the world and fundamentally changed the way that Black people in the United States have looked at themselves for nearly half a century. It's screening in San Francisco, Berkeley and San Rafael on Oct. 2. The Oakland screening is Saturday, Oct. 3, 1 p.m., Piedmont Theater, 4186 Piedmont Ave., followed by Q&A with Stanley Nelson and former Oakland Panther Steve McCutchen.
This interview was broadcast live on Aug. 18, 2015, on Terry Collins' show, The Spirit of Joe Rudolph. Terry Collins: A lot of people around here are definitely in deep mourning for the murder of Hugo Pinell on the 12th of August, this month. From my correspondence with him over the past three or four years, I know he was a person full of love. Kiilu Nyasha: If there was one word that could describe Yogi Bear, it would be love.
Over 1,000 Black activists, artists, scholars, students and organizations have released a statement reaffirming their "solidarity with the Palestinian struggle and commitment to the liberation of Palestine's land and people." "We urge people of conscience to recognize the struggle for Palestinian liberation as a key matter of our time," the statement asserts.
In November of 2004, Oakland-born and Vallejo-raised Hip Hop legend, Mac Dre, was shot and killed in the streets of Kansas City. "Legend of the Bay" is a must see documentary on the life of Mac Dre and the local independent rap industry that he helped to create. "Mac Dre: Legend of the Bay" will be screened for free to close out the San Francisco Black Film Festival: Sunday, June 14, 6 p.m., at the Boom Boom Room, 1601 Fillmore St., San Francisco.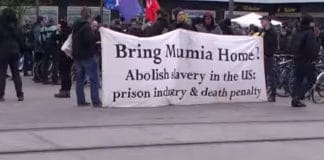 At this 30th anniversary of the MOVE massacre in Philadelphia, we here in Germany feel very close to you even despite the physical divide of more than 4,000 miles. The daily incidents of brutal police violence against African Americans but also poor white folk in recent months have shocked millions of people in Europe and Germany out of ideas that were perhaps somewhat naïve before into reality.
On the battlefield of psychological warfare, the Illinois Department of Corrections (IDOC) made moves that "appeared" to redress the unconstitutionally inhumane conditions in Menard isolation unit that gave rise to last year's hunger strike. But the move is no more than tricknology aimed at curbing grassroots activism and damage control due to the negative publicity that the hunger strike generated.
On Feb. 2, 2015, underground Bay Area rap king the Jacka was murdered on 94th and MacArthur in East Oakland, in the prime of his career. At 37 years old, Jack had been rhyming for over 20 years. In rememberance of my potna, my comrade, and my brotha, I wanted to interview producer Rob Lo, the Mob Figaz' and the Jacka's main producer, about the man and his music behind the glamour and glitz. Check Rob Lo out in his own words.
Given the trajectory of 2014 regarding Black lives, perhaps February would be a great time to reflect on what bell hooks calls "the love ethic," a principle Dr. King embodied and preached. Langston Hughes would have been 116 on Feb. 1 (his mother, Carrie Langston, was born Jan. 22, 1873). Albert Woodfox will be 68 on Feb. 19. Hopefully he will be eating cake under some sunny sky, a freed man by then.
I was working at Central Headquarters of the Black Panther Party (BPP) when George Jackson was murdered by guards in San Quentin Prison in 1971. George Jackson was one of the leaders of the developing Prison Rights Movement at the time. He helped develop a new consciousness among prisoners based on political education, service to the community and the destruction of the evil capitalist system.
There are hundreds of prisoners who have been falsely validated as members or associates of prison gangs that can viscerally relate to my experience, from living life as an outlaw in society to being prosecuted and convicted to prison, only to be persecuted while in prison, fundamentally for educating oneself by trying to heighten one's sense of cultural and social awareness.
By now millions of Americans have heard about COINTELPRO. COINTELPRO was the FBI's evil and illegal system of spying, lying, telephone wire taps, frame-ups and assassination that violated the constitutional and human rights that they claim to uphold. I was recently asked, while doing a Black Panther Party historical tour in Oakland, how COINTELPRO affected me personally. Here is one of my stories.
Word reached The Liberator Magazine that revolutionary Black independent media is about to expand with the impending launch of Block Report Radio Station on the internet. So they sought out its founder, Oakland journalist JR Valrey, to ask him why he devotes his life to independent media and what we can expect from the new Block Report Radio Station.
The next screening of the Black Riders documentary, 'Let Um Hear Ya Coming,' is Thursday, Oct. 3, 6:30 p.m., at La Pena Cultural Center, 3105 Shattuck Ave., Berkeley. The event also features the Conscious Roots Music Showcase, with performances by E Da Ref, Askari Mwari, Jah Wave, Fly Benzo and Ms. Incredible, Audiomatic, DJ 8 and DJ Cuba.
We, the United KAGE (Kings Against Genocidal Environments) Brothers, welcome you to our communion. We aim to unite and unionize the movement from within the belly of the beast to without. We wish to unite all people, regardless of color, race, creed, gender or sexuality. We all have much in common when dealing with prejudices and classism.
The Blueford family and the Justice 4 Alan Blueford coalition (JAB) held a vigil for Alan on the one-year anniversary of his murder by Oakland police officer Miguel Masso. JAB has based itself deep within the Afrikan community that birthed it and has brought together many organizations and individuals to fight for justice for Alan and to stop continued police violence.
The award winning play, "The Mountaintop," looks at the everyday divinity of ordinary folks and places Martin King right there with them. His greatness is not a greatness which is inaccessible or isolated. In the Lorraine Motel that night, King listens and even agrees at some point with the young maid, Camae, a Malcolm X radical in an apron.
Since America's MASS INCARCERATION is driven by unjust racial/class policies, then the real solution to MASS INCARCERATION is MASS "DECARCERATION." In other words, drastic cuts to ALL prisoner's TIME, since TIME is the currency, the legal tender, the great equalizer and righter of wrongs in prison.