As police murders accumulate, and police chiefs get fired and replaced because they cannot stop it – as in Oakland and San Francisco – the notion that this represents a political crisis becomes a truism. It is not a "crisis of policing," which would suggest a situation beyond the capacities of the police. It is the police who have become the crisis.
The Democratic National Convention will take place in Philadelphia, from July 25 through July 28. City authorities have issued permits for four marches during the convention, but they have thus far refused to grant a permit to the March for Our Lives organized by the Poor People's Economic Human Rights Campaign. KPFA's Ann Garrison spoke to campaign organizer, Philadelphia native and former Green Party vice presidential candidate Cheri Honkala.
It's personal because your actions against the oppressed were calculating, premeditated and strategically targeting New Afrikans and other oppressed, poor citizens of this nation. Not only did you wickedly abuse the trust of the people who believed in you, but you demonstrated what hatred looks like in policy. Yes! Your charisma, accompanied with your oiled up tongue, allowed you to work your charms on the people while all the time preying on them like a wild, mad predator.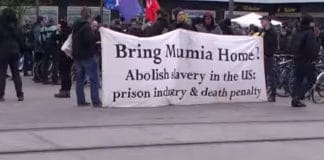 At this 30th anniversary of the MOVE massacre in Philadelphia, we here in Germany feel very close to you even despite the physical divide of more than 4,000 miles. The daily incidents of brutal police violence against African Americans but also poor white folk in recent months have shocked millions of people in Europe and Germany out of ideas that were perhaps somewhat naïve before into reality.
When we were growing up, we understood that most of these white, Black and Brown police officers were predators. They came to our communities pumped up, looking for action. And there are several profiles of them: cocky, scared, fearless, racist, prejudiced, biased, anxious, gangsters etc. We was warned as young boys to have NO engagement with police, under NO circumstances.
It's been made quite clear that I'm here in Texas in direct response to my having brought undesired public scrutiny to Oregon's and Virginia's prisons. This is an account of what I've experienced and witnessed in just a couple of weeks here, which can only be described as Cowboy Justice – as lawless as the Wild West. It is also an appeal to public support and activism.
Representatives of the Short Corridor Collective at Pelican Bay State Prison's Security Housing Unit have based their decision on a meeting with fellow prisoners at the prison, the growing international condemnation of California's practice of solitary confinement, as well as the commitment of California Senate and Assembly Public Safety Committee Chairs Loni Hancock and Tom Ammiano to convene a series of hearings in response to the strikers' demands that would "address the issues that have been raised to a point where they can no longer be ignored."
There was an ocean of signs in a sea of banners of struggle and liberation in front of Anaheim's City Hall and the adjacent park on July 21, 2013. The signs held faces of those cut down in the prime of their lives in loving memory and detail. There were informational signs and signs with slogans of liberation, with demands, statements of fact and advice – such as "Fuck the system" and "FTP" ("Fuck the police").
"Former political prisoner Dhoruba Bin Wahad recently penned an excellent essay breaking down what's going on in Mali, Congo and the Middle East. He also challenged the type of stances many of us have taken with respect to these regions that are embroiled in conflict. To support his essay, we interviewed him so he can expand upon his analysis. In true form, Dhoruba pulled no punches. Peep what he has to say."
It's like something ripped right out of a dystopian futuristic sci-fi novel: A U.S. patent has been uncovered that describes electronic handcuffs capable of delivering torturous electroshocks, "gas injections" and injectable "chemical restraints" to prisoners who wear them. The cuffs can be remote-controlled by prison guards, cops or MPs to deliver stronger or weaker electroshocks as desired.
General measures could move the cultural discussion and peoples' behaviors in the right direction, whereas a focus on restricting gun ownership – except for people who fit appropriate medico-legal exclusion criteria – will probably worsen our cultural crisis, increase discrimination and police attacks, and increase the danger of greater social violence and chaos.
The Los Angeles-based Center for Human Rights and Constitutional Law has filed a petition to the United Nations on behalf of hundreds of prisoners kept in solitary confinement in California prisons and subject to treatment amounting to torture and violating international human rights norms.
I really believe the time is ripe to force change – it can be done with peaceful protest type activity. But it will require direct action. Families and loved ones need to rally together for the common cause and make a solid, hard core stand to demand changes. "Rights" are not given; they are taken by the people!
Everyone knows the U.S. has the highest rate of incarceration in the world, higher than China's with four to five times our population, and it continues to spiral. One in 100 adults is locked up in this police state, now totaling 2.4 million. Just as chattel slavery produced abolitionists, this new form of slavery must generate prison abolitionists.
Abu Ghraib has its antecedents right here in the United States. The violence sponsored by the United States abroad has its origins inside the United States. As the United States and NATO drop bombs on unsubmitting African people in Libya, the United States kills an innocent Black man in Georgia.
Ishmael Reed is one of the most read writers of his generation, along with Toni Morrison and Amiri Baraka, living in America. In 1962, Reed co-founded "East Village Other," a well known underground publication at the time, and was a member of the Umbra Writers Workshop, which helped to give rise to the Black Arts Movement. He has published nine novels, four collections of poetry, six plays, four collections of essays and a libretto. He currently lives in Oakland, and I approached him one day while he was visiting KPFA's studios to ask him what he thought about the state of affairs between the police and Oakland's Black community, with the backdrop of the police murder of Oscar Grant and, in a separate incident, the police murder of Lovelle Mixon, after Mixon allegedly killed four Oakland police officers.
The Israeli government is stepping up efforts to suppress dissent and crush resistance in the streets.
The Army Times reports that the 3rd Infantry's 1st Brigade Combat Team is returning from Iraq to defend the Homeland as "an on-call federal response force for natural or manmade emergencies and disasters, including terrorist attacks." But at the same time, the Bush administration may be seeking a justification to establish martial law and intervene militarily within the USA.
I was outraged to hear that my "daughter," Nadra Foster, was attacked, brutalized, hogtied, arrested and charged with trespassing, resisting arrest, assaults on police, and other charges, with bail set at $81,500!